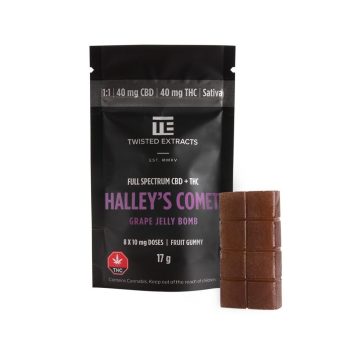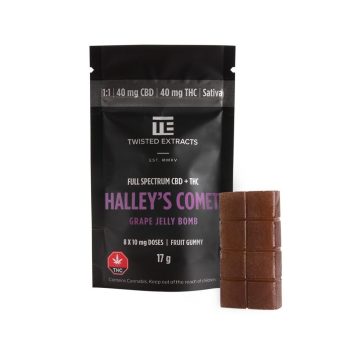 Strain specific, full spectrum 1:1 THC/CBD gummy.
40mg THC and 40mg CBD per Fruit Gummy
Not the fiery space ball, but Twisted Extracts newest full spectrum CBD edible. These gummies pack a powerful punch so make sure you start low and go slow (seriously, take it easy Cheech and Chong). They're naturally high in CBD so they're great for kicking chronic pain in the a**, helping you relax, and having a great time no matter what you're doing (or not doing, couch potato days are okay too).  Twisted Extracts recommend taking half of your typical dose, or 1/8 of the gummy if you're new to edibles.
Dose: 8 x 5 mg THC + 5 mg CBD per jelly bomb – 40 mg THC + 40mg CBD per package
Uses: Anxiety | Inflammation | Pain | Fun
Effects: Happy | Uplifted | Calm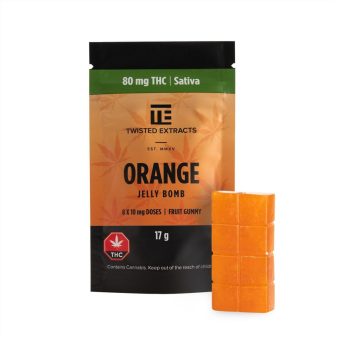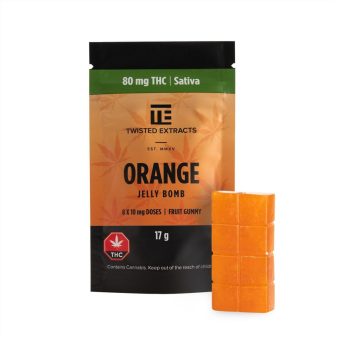 Wherever your happy place is, Twisted Extracts Sativa Jelly Bombs will take you there. They're great for many uses like sparking creativity (feel like Bob Ross), unwinding from the day (enhancing your binge watching netflix abilities), and making you feel like a kid again (regardless of how long it's been).
Dose: 8 x 10 mg THC per Jelly Bomb – 80 mg THC per package
Uses: Stress | Pain | Lack of Appetite | Fun
Effects: Euphoric | Energetic | Uplifted | Creative
Ingredients: Sugars (corn syrup, sugar from beets), Water, Gelatin, Citric acid, Natural and artificial flavours, Pectin, Coconut oil, Canola oil, Cannabis extract, Carnauba wax, FD&C Yellow #6.
Active Ingredients: Sativa Dominant Cannabis Extract.
Directions: Product is easily divided into 8 x 10 mg doses. First time users take a single 10 mg dose. Allow 90 minutes for full effect before considering an additional dose. Take with food for best results.
Storage instructions: For best results, please store in a cool, dry place.